Year Ender 2020—Department of Biotechnology (DBT)-M/o S & T
Salient Achievements 2020-2021
The Department of Biotechnology has made tremendous efforts in promoting Bioscience research, translational education and entrepreneurship. The Department has laid emphasis on the generation of biotech products, processes and technologies for enhanced efficiency, productivity and cost-effectiveness in the areas of agriculture, food and nutritional security; affordable health care and wellness; environmental safety; clean energy and biofuel, bio- manufacturing etc. Skill development programmes have been developed in close coordination with State Governments. The Department has contributed through its various programmes to the National Missions launched by the Prime Minister- Swasth Bharat, Swatch Bharat, Start-up India, Make in India and Digital India. The Department has also risen to the challenge for mitigation of COVID Pandemic by supporting vaccines, therapeutics, diagnostics, genomics, bioreporsitories and a National Platform (NBRIC) for achievement of Atmanirbharta.
Snap shot of achievements: The coordinated efforts of all the stakeholders resulted in supporting more than1642 projects, 2731Scientists and 5145 project fellows, more than 1 Lakh students were trained under Star college scheme, 40 Ramalingaswami Re-entry fellows secured regular appointment, 20,000 rural, SC,ST and Women beneficiaries were supported through Societal programme and more than 25,000 farmers supported thorough Biotech KISAN scheme.
UNATI Atal Jai Anusandhan Mission Programmes
UNATI Atal Jai Anusandhan Mission has been implemented by DBT with a major focus on improved agriculture, affordable healthcare, clean energy and cutting-edge frontier science as per details given below:
GARBH-ini (interdisciplinary Group for Advanced Research in BirtH outcomes- DBT India Initiative) study aim to discover molecular risk-markers and generate a risk-prediction algorithm for preterm birth which will facilitate timely referral and care for at-risk mothers, thus saving children's lives and reducing morbidity. This programme has established a unique pregnancy cohort comprising of more than 8000 women to study Pre Term Birth (PTB). The GARBH-ini platform comprises of a bio-repository (Rakshita) of well characterized clinical phenotypes which has now expanded to include 750,000 bio-specimens and 450,000 ultrasound images.
The frequency of preterm birth has been found to be around 13%, which is higher than those reported from economically developed (8.6%) or the low-income countries in Northern (7.3%) or Sub-Saharan Africa (12.3%). In addition to the well-known risk factors such as history of preterm birth, short Inter-pregnancy interval and short cervix at 3rd trimester, some less reported factors such as biomass fuel use and exposure to passive smoking as risk factors of PTB have been identified. With respect to BMI at enrolment, both underweight and overweight/obese women were found to have a higher risk of PTB. A first trimester dating formula (called Garbhini-1) has been developed from the biometry of the foetus from mothers enrolled in the cohort which is more sensitive & accurate than global formulae.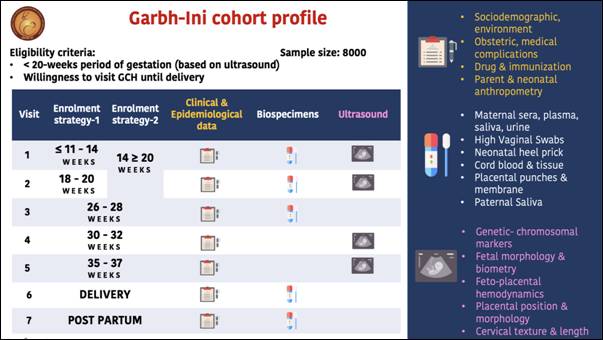 AMR Mission will focus on development of new antibiotics, alternatives to antibiotics and diagnostics. Some of the achievements include:
National Centre for Microbial Resource (NCMR), National Centre of Cell Sciences, Pune (an Autonomous Institute of DBT), a National Facility to function as a Bio-repository for resistant microbes/infective agents (Bacteria and Fungi)" and to carry out collection, storage, maintenance, preservation and characterization of these microbes across the country.
A National AMR-specific Pathogen priority list for India to prioritize R&D work in AMR was developed in collaboration with WHO, Country Office, New Delhi
To address the rising threat of antimicrobial resistance (AMR) with a holistic and multi-sectoral (One Health) approach, "India's One Health Initiative" to combat problems associated with AMR was launched.
India has partnered with Global AMR R&D Hub as a member of Board of Members. By partnering, with the Global AMR R&D Hub, the Department will work with all partners to leverage their existing capabilities, resources and collectively focus on new R&D intervention to address drug resistant infections.
Ind-CEPI MISSION is an India centric collaborative mission of DBT aligned to the global initiatives of CEPI (Coalition of Epidemic Preparedness Innovations). DBT is supporting the implementation of the Ind-CEPIs mission "Epidemic preparedness through rapid vaccine development: Support of Indian vaccine development is aligned with the global initiative of the Coalition for Epidemic Preparedness Innovations (CEPI)", at BIRAC, PSU of DBT.
Ind-CEPI Mission initiated the eCourse Series entitled "Strengthening Clinical Trial Research Capacity in Neighbouring Countries" primarily aimed towards skill development, capacity building and regional networking and coordination. A total of 4-Program 10 sessions series were conducted via online platform with total engagement of more than 750 participants from neighbouring countries like Afghanistan, Bangladesh, Bhutan, Maldives, Mauritius, Nepal and Srilanka.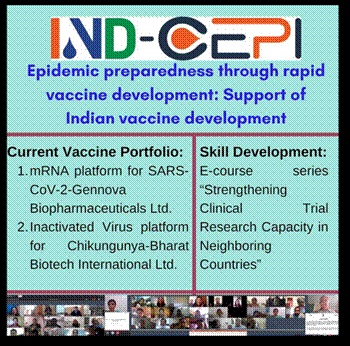 UNATI Mission Clean Technologies for Swachh Bharat: DBT has developed various technology platforms designed to convert different solid, liquid and gaseous wastes into renewable fuels, energy and useful products such as food, feed, polymers and chemicals. Under the UNATI Mission, 10 promising clean technologies have been identified for demonstration with DBT support at different sites across India, in collaboration with local stakeholders such as municipalities and other urban local bodies. The identified technologies include bio-methanation, constructed wetland, bio-toilets, chemical & membrane free water purification etc. The first five projects under this initiative were formally launched on 01st Oct 2020, on the eve of Gandhi Jayanti, with an aim to achieve "Swachh Bharat".
Fortified Wheat Nutritional Improvement: Anthocyanin rich biofortified coloured wheat lines have been developed by National Agri-Food Biotechnology Institute (NABI), Mohali. NABI has signed 18 MoUs with companies from 9 states and Non-Disclosure agreement with 9 companies from 4 States involved in contract farming and making food products. The program will be addressing micronutrient malnutrition problem and also help the progressive farmers to grow improved wheat lines and encourage entrepreneurship and start-ups.
DBTs response to COVID
Mission COVID Suraksha was announced with a provision of Rs. 900 Cr. to DBT for supporting development of a comprehensive ecosystem for enabling the development of a safe, efficacious and affordable vaccine for COVID-19. The milestone is to accelerate the development of at least 5-6 vaccine candidates and ensure that some of these are brought closer to licensure for consideration of regulatory authorities and for introduction in public health systems.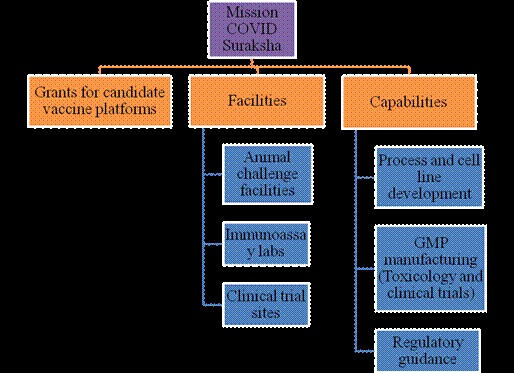 Highlights of major activities include: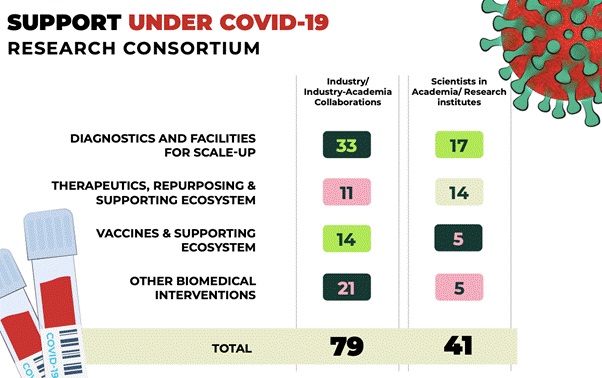 Support for >100 projects in the thematic areas of vaccines, diagnostics and therapeutics
Enabling 7 vaccine candidates by industry and 8 candidates by academia
Development of clinical trial sites and centralized laboratories to facilitate vaccine development and leveraging international partnerships.
COVID 19 testing at 9 DBT AIs, approved as Hubs for their respective City/Regional clusters.
Rapid scale-up of manufacturing of indigenous COVID-19 diagnostic kits with a production capacity of about15 Lakh kits/day and deployment of nation's first infectious disease mobile laboratory in Haryana
5 COVID19 Biorepositories with more than 40,000 samples available to researchers and industry
Development of therapeutics from natural products in partnership with M/o AYUSH.
Nearly 50 BIRAC supported startups have developed innovative products for COVID19.
COVID Vaccines:
DBT's National Biopharma Mission supported DNA vaccine, ZyCoV-D, developed by ZydusCadila initiated Phase –III trials
Some major projects being supported include:
Phase III trial of rBCG vaccine by Serum Institute of India
mRNA vaccine (Gennova Biopharmaceuticals Ltd.),
inactivated rabies virus vector vaccine (Bharat Biotech)
VesiculoVaxplatform based candidate (AurobindoPharma).
Partnerships for Accelerating Clinical Trials (PACT): The PACT (Partnerships for Accelerating Clinical Trials) programme has been launched for supporting COVID-19 vaccine development activities in partnering countries. The initiative is being implemented by Biotechnology Industry Research Assistance Council (BIRAC) and Clinical Development Services Agency (CDSA) under the aegis of the National Biopharma Mission and Ind-CEPI Mission of DBT.
Supporting COVID-19 research activities through DBT-BIRAC COVID-19 Research Consortium
The Department of Biotechnology (DBT) and its Public Sector Undertaking, Biotechnology Industry Research Assistance Council (BIRAC), have published a "Request for Proposal (RFP) for COVID-19 Research Consortium" as part of the comprehensive efforts to facilitate development of indigenous research solutions to tackle COVID-19.
71 proposals have been recommended in the first phase of the call, focused on the development of different platforms of COVID-19 vaccines and assay systems, diagnostic kits (PCR and antibody-based kits), therapeutic monoclonal antibodies, in vitro models and 3D lung organoid models, hand sanitizers, Personal Protective Equipment (PPE) and low-cost ventilators/respirators, to name a few.
114 research proposals were received from the Academic institutions in the area of Diagnostics for financial support against the DBT-BIRAC COVID-19 Research Consortium call. Financial concurrence have been received for all the 17 projects selected for the support. In the thematic area of vaccines, out of 4 projects selected for support, financial concurrence has been received for the 2 projects and 2 projects are under process.
Continued support will be provided to the recommended projects in the first phase of the call.
The comprehensive, multi-tiered review and evaluation of thenearly 610 applications received under the follow-up call, came to a completion, with the final Apex Meeting held on July 17, 2020.
Forty-nine (49) proposals have been recommended funding support under the follow-up call, to fast track R & D efforts for vaccine development, diagnostics, novel therapeutics, repurposing of drugs and any other relevant intervention for control of COVID-19.
The shortlisted proposals under the follow up call include 7 projects for vaccines, 16 proposals under diagnostics, 10 in the area of therapeutics,2 proposals on drug repurposing, and 14 projects under other interventions. Thirty-one (31) of these 49 proposals have been recommended support under BIRAC and 18 were academia projects recommended under DBT.
Further, the Department has constituted a COVID-19 Expert Advisory Group to help identify new priority areas and to drive innovative COVID-19 related research efforts.
The first tranche of release was done to Biological E Ltd to develop a safe, immunogenic & stable vaccine for all populations against the novel coronavirus COVID-19 which is affordable and accessible for all countries. Also the first release was done for Seagull Biosolutions Pvt Ltd for Synthesis, Preclinical characterization & Phase I clinical testing of a novel Active Virosome Vaccine for prevention of COVID-19 infections.
The first tranche of release was done to Intas Pharmaceutical Ltd for Development of recombinant adeno-associated virus [rAAV] based genetic vaccine for COVID-19.
The first tranche of release was done to University of Delhi, South Campus for Development of Therapeutic antibodies for COVID-19 in collaboration with Gennova Biopharmaceuticals.
DBT-BIRAC has prepared 11 clinical trial sites that would help developers test the COVID19 vaccine candidates quickly. Each site will have access to a cohort of about 50000 – 100000 healthy volunteers, who can be tracked for prolonged periods of time.
Facilitating National efforts for COVID-19 Vaccine development and manufacturing
DBT is working with the PM-Task force for supporting COVID-19 vaccine development efforts through the PM CARES fund (Prime Minister's Citizen Assistance Relief in Emergency Situations fund.
DBT-BIRAC supported nation's first indigenously developed DNA vaccine candidate against COVID-19, ZyCoV-D, by M/s Zydus Cadila has been approved by Drugs Controller General of India (DCGI), for conduct of the Phase III clinical trials.
DBT-BIRAC held a preliminary discussion with Janssen Pharmaceuticals Ltd., for understanding the strategy for introduction of their COVID-19 vaccine candidate in India.
Russian Direct Investment Fund (RDIF) announced that Russia will jointly produce Sputnik V vaccine with India. About 300 million doses of the Sputnik V vaccine are proposed to be manufactured in India in 2021.A discussion of Secretary, DBT, and officials of DBT-BIRAC, with Dr. Reddy's team was held on 4th January, 2021. Dr. Reddy's team updated on the current status of the clinical trials of Sputnik V in India, the manufacturing capacity, cold-chain logistics from a programmatic stand point.
The Department proposes to launch the Indian COVID Vaccine Development Mission – Mission COVID Suraksha, with an aim to consolidate the efforts for COVID-19 vaccine development and accelerate development of at least 6 vaccine candidates to ensure their licensure and introduction within the next 12-15 months. The concept note for the mission was also presented in the 10th meeting of the PMO constituted Task Force for Focused Research on Corona Vaccine and other S&T issues held on August 18, 2020.Also, the DPR was submitted to the office of the Hon'ble Minister of S&T.The draft EFC memo for the Indian COVID-19 Vaccine Development Mission "Mission COVID Suraksha" was approved by the Office of the Hon'ble Minister of Science and Technology, Health and Family Welfare and Earth Sciences and by Hon'ble Finance Minister and release of the first tranche of the grant is in process. 2 Requests for Expression of Interest (REoIs) for COVID-19 vaccine development and supporting ecosystem were issued by DBT-BIRAC under "Mission COVID Suraksha – The Indian COVID-19 Vaccine Development Mission".
To facilitate Phase III clinical trials of global and national vaccine candidates, five clinical trial sites (INCLEN Trust International, Palwal; KEM, Vadu, Pune; Society for Health Allied Research (SHARE), Hyderabad; National Institute of Epidemiology, Chennai and Christian medical College (CMC), Vellore) and six DHS sites, spread across the Nation are being prepared.
Meeting between Officials of Qatar and India was held to explore bilateral cooperation for research / training in the areas of diagnostics, therapeutics and vaccines for COVID-19 on 27th October. Member, Health NITI Aayog, Secretary DBT and DG, ICMR participated in the meeting.
A business meeting of the Joint Working Group (JWG) of the Indo-US Vaccine Action programme (VAP) was held on 15.12.2020, which included a special session on COVID-19 vaccine development efforts in India and USA.
The Department of Biotechnology had shared a brief update with NITI Aayog, on the efforts for COVID-19 vaccine development and strengthening supporting ecosystem, for inclusion in the statement from India on ACT Accelerator.
The 12th Meeting of the COVID -19 Working Group of the National Technical Advisory Group on Immunisation (NTAGI) was held on 16thDecember, 2020, whereby there was a discussion on Geographic variation in the outcome of COVID-19 Disease and Contraindications of use of COVID-19 Vaccines.
In the 4th meeting of Meeting of Standing Working Group on Immunization Vaccine Research Capacity Building held on 16thDecember, 2020, a discussion was held on Research questions on COVID-19 vaccine/s use and implementation.
Working upon NEGVAC's interest, DBT/BIRAC officers held a discussion with Austrian Scientists/ Officers on 20th November, 2020, for exploring potential areas of cooperation for COVID-19 research.
Officials from Vietnam's Office of Science and Technology in India (VOST), Embassy of Vietnam in India, met with DBT, BIRAC officers, on 8th December, 2020, to explore opportunities for cooperation on COVID-19 research activities.
Information pertaining to the availability of ultra-low temperature storage facilities at DBT Autonomous Institutions of DBT was shared with MoHFW, as part of the exercise to map the availability of cold chain facilities, in the nation. As part of the efforts for mapping the Cold Chain Facilities across the nation, information pertaining to DBT-Autonomous Institutes is being compiled for onward sharing with MoHFW.
Production capacity of Indian Vaccine manufacturers for their vaccine platforms is being solicited by BIRAC, for consolidating relevant inputs for the COVAX Vaccine Request format shared by MoHFW.
CDSCO had undertaken an inspection of the laboratory infrastructure and the facilities, at NCCS, Pune and NIAB, Hyderabad, for assessing their functioning as Central Drug Laboratories for COVID-19 vaccine testing. A detailed project report has been requested to be submitted to MoHFW for expansion of the facilities.
MEA accorded 'in principle' approval for financial support for phase 3 trial of COVAXIN in Bangladesh by Bharat Biotech International ltd. (BBIL). Signing of a tripartite HoA with BBIL and ICMR, to finalize the modalities and issues related to the conduct of a COVAXIN based Phase III Efficacy trial in Bangladesh is under consideration. The revised budgetary requirement provided by BBIL has been shared with MEA. The semi-executed tripartite Heads of Agreement was shared with ICMR, to finalize the modalities and issues related to the conduct of a COVAXIN based Phase III Efficacy trial in Bangladesh is under consideration. The proposal for the conduct of clinical trials of indigenously developed inactivated vaccine (COVAXIN) by Bharat Biotech International Ltd.(BBIL), in Bangladesh, is under consideration by the Ministry of External Affairs (MEA). DBT-BIRAC is facilitating the same.
· CDSCO had undertaken an inspection of the laboratory infrastructure and the facilities, at NCCS, Pune and NIAB, Hyderabad, for assessing their functioning as Central Drug Laboratories for COVID-19 vaccine testing. A detailed project report is being prepared for consideration of MoH&FW for expansion of the facilities.
· A discussion of Secretary, DBT with Officials from Myanmar was held on 21st December, 2020 to explore opportunities for association with DBT and procurement and deployment of Indian COVID-19 vaccines in Myanmar.
· A discussion was held with the leadership of CEPI on 21st December 2020 to discuss the potential contribution of CEPI to the clinical development of the RBD based protein subunit vaccine candidate for COVID-19, which was positively reviewed in the third call for proposals given by CEPI for COVID-19 vaccine candidate development.
COVID Therapeutics:
DBT-AYUSH partnership​
Joint network programme, involving DBT AIs and National Medicinal Plants Board (NMPB) to harness the potential of indigenous medicinal plants for development of plant -based therapeutics to treat COVID-19; 50 plants to be screened
DCGI approved First Phytopharma drug​
Phase II clinical trials of AQCH, a phytopharmaceutical drug, developed by DBT-ICGEB along with Sun Pharma initiated. ​
Immunoglobulin based therapeutics ​
Immunotherapy of COVID infected patients using therapeutic antibodies from Human or Equine sources​
Clinical trial for equine immunoglobulin therapy to start shortly​
Resources for drug screening​
Organoid technology in vitro platform for drug screening and identification of new drug targets​
DBT-RCB has set an in vitro cell culture-based assay to test the antiviral activity of potential molecules against SARS-CoV2. ​Services have been widely utilized by the academia and industry. Cytotoxicity Testing and anti-viral testing was done on 679 and 313 samples respectively
COVID Diagnostics:
Hon'ble Minister for for Science & Technology, Health & Family Welfare and Earth Sciences, announced the successful manufacturing of 100 lakh diagnostic kits for COVID-19, by DBT-Andhra Med Tech Zone (AMTZ) National COMManD Consortium [COVID MedTech.
Hon'ble Minister for for Science & Technology, Health & Family Welfare and Earth Sciences launched the country's first mobile I-Lab (Infectious disease diagnostic lab) for last mile coronavirus (COVID-19) testing access on 18th June 2020. The lab will be deployed in interior, inaccessible parts of the country and has the capability to perform 25 RT-PCR tests a day, 300 ELISA tests a day and additional tests for TB, HIV as per CGHS (Central Government Health Scheme) rates.
First Indigenous kit for diagnosis of COVID-19 developed by a BIRAC supported Startup MyLab, Pune – producing nearly one lakh kits per week.
Andhra Pradesh MedTech Zone (AMTZ): Shared facility to manufacture diagnostic kits, ventilators and imaging equipment. Manufacturing capacity of 3 lakh RT-PCR kits/month, 1 lakh RNA extraction kits/ month and 1 lakh Viral Transport Medium (VTM)/month.​
Dhiti Life Sciences – Fully indigenous Antibody detection kit commercialized.
Ubio – Antibody detection kit developed and is commercialised​.
Molecular Transport Medium (MTM) and Nucleic acid extraction kits developed by Huwel Lifesciencs available in market.
DBT-NIAB developed Electrochemical device for ultrasensitive and rapid diagnosis of SARS-CoV-2. MoU was signed for the transfer of technology to M/s Biogenex Life Sciences Private Limited.​
DBT-THSTI ​developed the first Aptamer based SARS-COV2 detection assay.​ The Technology was transferred to Molbio Diagnostics Pvt Ltd.​
COVID testing services: 23.83 lakh samples tested as on 1st January, 2021, across the hubs.