Over 1400 km long Highways worth Rs 15,592 crore to boost the economy of the State
Union Minister for Road Transport, Highways and MSMEs Shri Nitin Gadkari inaugurated and laid the foundation stones for 16 National Highways projects with a total length of 1411 kms worth Rs 15,592 crore in Andhra Pradesh. The event was presided by the Chief Minister Shri Y S Jagan Mohan Reddy. Union MoSs Gen (Retd) Dr V K Singh and Shri G Kishan Reddy, Ministers from the State, Members of Parliaments, MLAs and senior officers from the Centre and the State.
Speaking on the occasion, Shri Gadkari said that the length of National Highways in Andhra Pradesh before May 2014 was 4193 Km, which has now increased to 6860 Km. Thus, there has been increase of 2667 Km (64%) in NH length during past 6 years. He informed that works costing Rs 34,100 crore are under DPR Stage and targeted for completion by 2024, while works costing Rs. 25,440 crore are under implementation. He said, 50-60% progress has been achieved in projects costing Rs 18,100 crore. The Minister invited the Chief Minister to Delhi at an early date to discuss and resolve pending issues. He assured his total support in sanctioning maximum number of developmental projects for the State.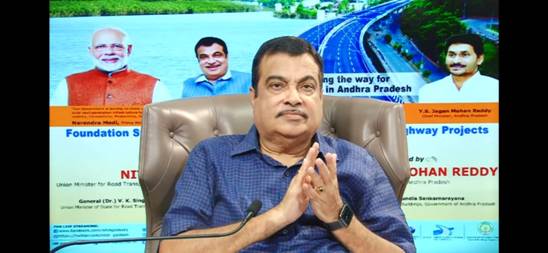 He informed that 5000 Km of National Highways are being developed as a part of Bharatmala Pariyojana in the State. In addition, 400 Km of Port Connectivity Roads will also be developed under Bharatmala Pariyojana. He said, The Bharatmala Pariyojana was conceptualized through a scientific study of freight traffic movement between key origin-destination pairs to enable efficient freight and passenger movement. 35,000 km of National Highways are being developed as a part of Bharatmala Pariyojana in the country.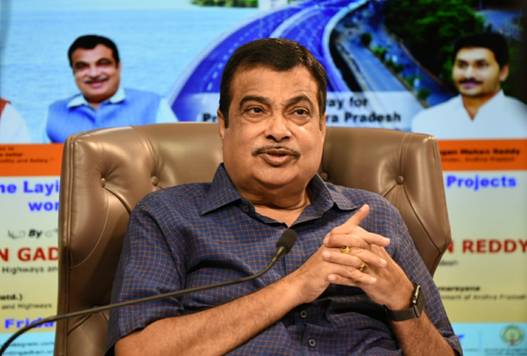 The Minister said, in line with the Prime Minister's vision for a New India, development of world-class transport infrastructure has been prioritized, through initiatives such as the Bharatmala Pariyojana, India's largest ever infrastructure development programme. Many flagship corridors such as Delhi Mumbai Expressway, Delhi Amritsar Katra Expressway, Chennai – Bengaluru Expressway, Anantapur – Amaravati Expressway etc. are being developed as a part of Bharatmala Pariyojana.