ECI thanks voters for strictly following COVID protocols
|
Polling was today conducted peacefully in 15,789Polling Stations spread across 45 Assembly Constituencies, in the fifth phase of elections in the State of West Bengal as well as in the Bye-Election in 2 Parliamentary Constituencies and 12 Assembly Constituencies across 10 States. Bye-Elections were also conducted in the Parliamentary Constituencies Tirupati (SC), Andhra Pradesh and Belgaum, Karnataka today. Bye-Elections were conducted in the Assembly Constituencies Morva Hadaf (ST), Gujarat; Madhupur, Jharkhand; Basavakalyan and Maski (ST), Karnataka; Damoh, Madhya Pradesh; Pandharpur, Maharashtra; Serchhip (ST), Mizoram; Sahara, Sujangarh (SC) and Rajsamand, Rajasthan; Nagarjuna Sagar, Telangana and Salt, Uttarakhand today.
Polling at 56-Samserganj Assembly Constituency & 58-Jangipur Assembly Constituency West Bengal scheduled on 26 April stands adjourned due to death of Indian National Congress candidate and Revolutionary Socialist Party candidate respectively. Polling in Bye-Election to Pipili Assembly Constituency Odisha stands adjourned due to death of Indian National Congress candidate. These political parties will be provided an opportunity to nominate another candidate for which fresh notification shall be issued by the Commission.
Only one candidate filed nomination for Bye-Election to Noksen (ST) Assembly Constituency in Nagaland. Hence the candidate was elected unopposed.
In the Phase V of West Bengal Assembly Elections, the total number of PwD electors and 80+ electors are 60,198 and 1,79,634 respectively. A total of 15,789 Ballot Units (BUs), 15,789 Control Units(CUs) and 15,789 VVPATs were used in West Bengal during this phase. 8266 (52.35%) out of 15789 polling stations are monitored live through webcasting.
During the ongoing elections till this phase in West Bengal, a record seizure of Rs.310.50 Crores has already been reported till date. The seizure figure, which includes seizure of cash, liquor, narcotics, freebies etc., is 7 times of the total seizure of Rs. 44.33 Crores in GE LA 2016. The progressive seizure of all five States/UT where assembly elections have been/are being held, as on date is Rs.1013.1 Crore (this includes seizures of Rs.12.11 Crore in bye-elections also)
To control the spread of Coronavirus, the Election Commission invoked powers under Article 324 to curtail the timing of campaign. Silence period has been extended from 48 hours to 72 hours in each of the remaining 3 phases. The Commission had written to political parties for taking additional measures to deal with COVID-19.
Details of Electors, Polling Stations & Observers in the poll are as follows:
Table 1 : Factsheet for West Bengal
State
Phase 1
Phase 2
Phase 3
Phase 4
Phase 5
Total upto Phase 5
Assembly Constituencies
30
30
31
44
45
180
No of Polling Stations
10,288
10,620
10,871
15,940
15,789
63,508
Registered Electors
7380942
7594549
7852425
11581022
11347344
45756282
Total number of contesting candidates
191
171
205
373
319
1259
No of General Observers deployed
20
23
22
35
33
133
No of Police Observers deployed
7
6
9
9
12
43
No of Expenditure Observers deployed
9
9
7
10
16
51
% of voting till 5 PM
84.63(Final VTR)
86.11(Final VTR)
84.61(Final VTR)
79.90 (Final VTR)
78.36% (as of 5 PM)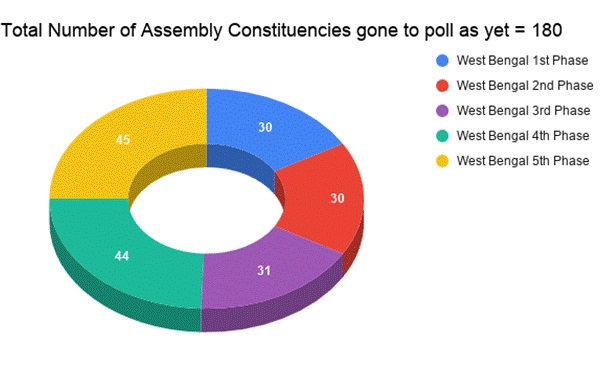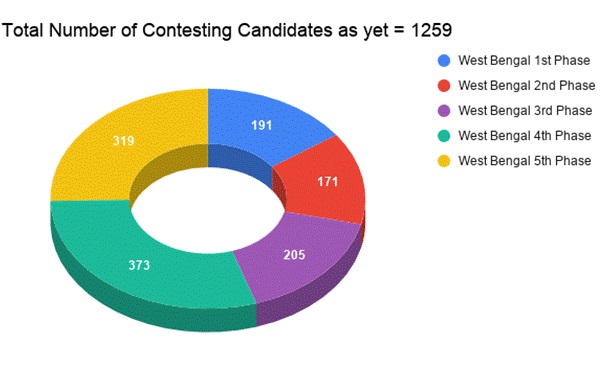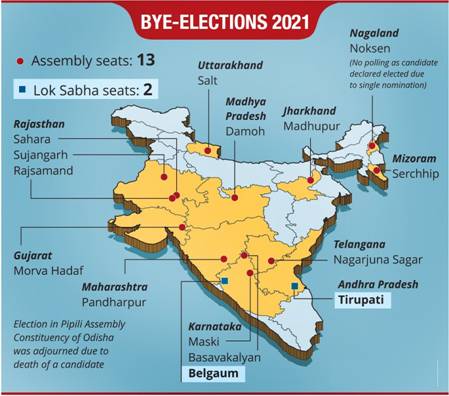 Table No 2: Number of Constituencies having Bye-Elections
States
Parliamentary Constituencies
Assembly Constituencies
Andhra Pradesh
Tirupati (SC)
Gujarat
Morva Hadaf (ST)
Jharkhand
Madhupur
Karnataka
Belgaum
Basavakalyan, Maski (ST)
Madhya Pradesh
Damoh
Maharashtra
Pandharpur
Mizoram
Serchhip (ST)
Rajasthan
Sahara, Sujangarh (SC), Rajsamand
Telangana
Nagarjuna Sagar
Uttarakhand
Salt
Total Number of Constituencies
2
12
To ensure inclusive and accessible elections, the Commission has extended the option of postal ballot facility to PwDs, Senior Citizens above the age of 80 years, COVID-19 suspect or affected persons and persons employed in essential services. The Observers at the ground level oversaw that proper arrangements for facilitation were made available for these voters.